Training - The Industrial Design Centre of Aragon (CADI) - Government of Aragon
06/13/2019
Servicio de Apoyo a la Pequeña y Mediana Empresa

Empresa, comercio y asociaciones

Empresa

Gestión de empresa

Otros empresa

Actividades industriales

Empresa e innovación

Otras actividades industriales

Ayudas y subvenciones a empresas

Ayuda a empresas

Subvención a empresas

Economía

Cultura, ocio y turismo

Cultura

Educación, investigación y desarrollo

Investigación, desarrollo e innovación

Grupos de investigación e innovación

Proyectos de innovación educativa

Empleo y formación en educación

Formación
Training: for companies and for young students
Training courses for companies
COURSE: DESIGN IS APPLICABLE IN YOUR COMPANY
The course entitled "Design is applicable in your company" is an initiative of the CADI (Industrial Design Centre of Aragon) to bring design within the reach of SMEs and micro-enterprises. Its aim is to present the potential of the design process and for participants to find out all about how methods and tools can be applied within the scope of their own ideas, business or company and to their products, services and brands, with the objective of making them tangible, giving them value and evolving them…. The idea is for participants to learn about design management and begin to carry it out in their companies through an introduction to the design concept and its areas of application in an initial session and then by focusing on specific situations in the session or sessions entitled "How to apply design in your company".
The course comprises two (or in some cases three) sessions in which participants, entrepreneurs, promoters and teachers learn how to apply design in order to define and shape their ideas and projects.
The course is delivered in line with the script presented in the document drafted by the CADI: "Design as a strategic tool. Checklist and recommendations", in which the specific features of design are examined from the point of view of their strategic dimension, analysing one by one the different aspects of design: from identity-communication to those relating to product and service.
Using a list of questions, the document invites participants to reflect on the strategy of their company/organisation and on the actions required to define and design corporate identity, brand, communication media and on the products and services that the organisation offers the market.
In each section the document makes recommendations or provides advice to help the company put in place the different, necessary actions in each sphere.
In the first session participants share their point of view of the reflections of the document and its recommendations with the speakers.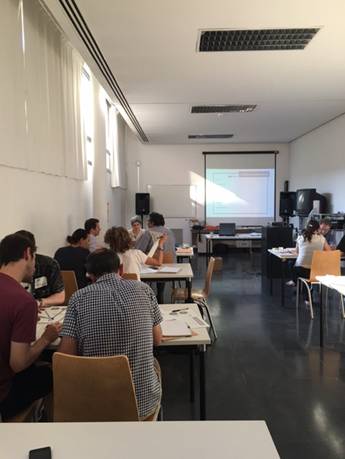 The second session consists of group work in which participants can experience applying strategy-defining tools to their own projects or ideas as well as some of the tools used in the process of designing brands, products or services.
The CADI considers that this course not only provides participants with views on how design management could work in their organisations, how project methods could be applied, how to use tools, take decisions, etc. but it also allows them to experience it to a certain extent by encouraging them to internalise a series of resources that will be of use when working on their future ideas and projects, integrating the design perspective.
The CADI considers that the two courses organised to date have been highly positive and an experience that has provided useful feedback on how to redirect design training towards SMEs and micro-enterprises to help them to increase their resources in terms of defining and developing their projects and bringing them to fruition.
PROGRAMME
Session 1 General seminar
Introduction
- Approach to the design concept and its areas of application
- Design
- Design process. From company analysis to differentiation in the marketplace.
- Methodology: Analysis, briefing, research, debriefing, conceptualisation, prototyping, testing, launch.
- Product/service/identity system
Design of corporate visual identity
- The process. From strategy and values to graphic and visual solution.
- Identity and brand. Architecture.
- Naming.
- Applicable and regulations.
- Communication.
Product design and packaging
- The process. From the idea to production and launch.
- Tools.
Service and Experience design
- The process. From user interaction to memorable experience.
- Tools
Others
- Website, applications, interaction design…
- Legal protection.
- Management of all this. Organisation
- How can I to manage all these resources and activities?
- How to accommodate them within the company? (Information required, equipment, resources….)
Strategic design
- What is it? What does it mean?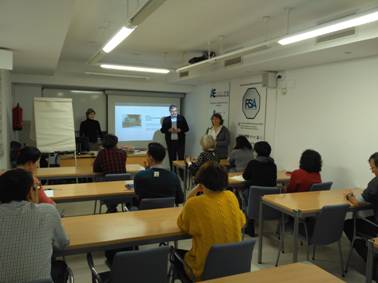 Session 2 Practical workshop. Project development
How to apply design in your company?
- Creation of work groups
- Individual presentation of case studies
- Group discussion on projects presented
- How can I address the design process in my company (product, in the marketplace, service, identity)?
- Preparing a proposal of steps to follow
Team of teachers
CADI (Industrial Design Centre of Aragon)
Training: 9.00 – 14.00
Previous courses:
1st course: 29-30/06/2016 Activity within the framework of the Design Promotion Agreement between the Department of Economy, Industry and Employment and the Council of Chambers of Commerce of Aragon.
2nd course: 23-25/01/2017 Organised by the CADI and the Instituto Aragonés de Fomento (IAF) as part of its programme of enterprise support programme.
3rd edition: 09/21/2017 Course organized by the Cadi for the PAED Technicians of the Chambers of Commerce of Zaragoza, Huesca and Teruel.
Training courses for young students
WOW! DISEÑO, TRAINING PROGRAM DESIGN FOR YOUNG STUDENTS

The Department of Industry, Competitiveness and Business Development of the Government of Aragon, through the Aragonese Center for Industrial Design (Cadi), has been promoting various actions for more than two decades with the aim of promoting the incorporation of industrial design into the strategy of Aragonese companies, considering it a basic management tool for competitive improvement. It also performs advisory, dissemination and training tasks.
One of its design training activities is aimed at students of drawing and high school technology . Since the 2013-14 academic year, talks, workshops and projects have been held in 57 educational centers in Aragon, reaching more than 2,200 students of the ESO and Baccalaureate.
WOW! DESIGN , intends to tune in with the students, the main protagonists of the training activities.
The objectives of this service in the field of training are: to seek the acquisition of design skills and methodologies and the reinforcement of the competences and capacities of ESO and Baccalaureate
The present course 2019-20 the ¡WOW! DESIGN offers :
10 activities that include participation in a guided tour and workshop WOW! DESIGN in the Cadi , during which basic design concepts will be explained, practical exercises and a 50-minute workshop will be carried out.

Visit duration: 2 sessions of 50 minutes


25 workshops in educational centers: workshops that would be held after working in advance an introduction video, the teacher with his students, in the classroom. We will send the link to the video by mail to your center.

They would consist in the re-design of an object.

Duration: 2 to 3 sessions of 50 minutes on the same day.

5 projects: would be carried out after watching the introduction video. They will adjust to the contents and level of the course to which they are directed.

Duration: 4 visits to the center. Each visit of 2 sessions of 50 minutes

This course is intended to involve centers that have not done so far, so, we will prioritize the registration of new centers compared to centers in which we have previously worked, however, 30% of the activities may be carried out by centers that already Other courses have collaborated with us.
INFORMATION AND GENERAL RECOMMENDATIONS:
Let the CADI know as soon as possible if you are interested in any of the proposed activities as there is a limited number of talks/workshops/projects that we can prepare and deliver.
EXPERIENCES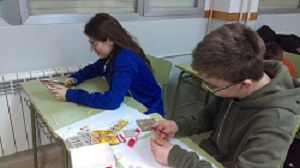 PROJECT UNDER WAYS AT IES PEDRO CERRADA SECONDARY SCHOOL (UTEBO, ZARAGOZA)
Topic: design and construction of trunks for theatre productions using pallets.
The CADI's help was only required sporadically (initial presentation of the project and preparation for the presentation).
4th year secondary school pupils. Technology.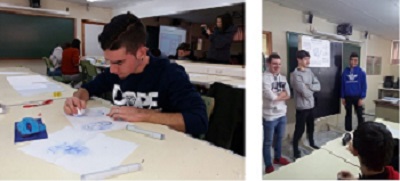 NEW PROJECT, IES PABLO SERRANO SECONDARY SCHOOL (ZARAGOZA):
Redesign a computer mouse. The pupils applied design methods during the process and reinforced concepts such as ergonomics, user, functionality, etc.
1st year Baccalaureate students. Technical drawing and technology.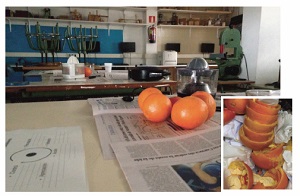 SEQUENCE-OF-USE ANALYSIS WORKSHOP AT IES RAMÓN Y CAJAL SECONDARY SCHOOL (ZARAGOZA)
The workshop consisted of analyzing the sequence of use of a juice squeezer to detect any possible improvements.
1st year Baccalaureate students. Technology
OTHER EXPERIENCES HAVE BEEN CARRIED OUT IN:
Colegio Antonio Machado (Zaragoza)
Colegio Bajo Aragón (Zaragoza)
Colegio Británico (Cuarte de Huerva-Zaragoza)
Colegio Cristo Rey (Zaragoza)
Colegio El Buen Pastor (Zaragoza)
Colegio El Salvador (Zaragoza)
Colegio Escolapias-Miraflores (Zaragoza)
Colegio Escuelas Pías (Zaragoza)
Colegio Inmaculada Concepción (Zaragoza)
Colegio La Salle-Santo Ángel (Zaragoza)
Colegio Montessori (Zaragoza)
Colegio Ntra. Sra. de la Merced (Ejea de los Caballeros-Zaragoza)
Colegio Sagrada Familia (Tarazona-Zaragoza)
Colegio San Agustín (Zaragoza)
Colegio Sta. Magdalena- Sofía (Zaragoza)
Colegio Teresiano- El Pilar (Zaragoza)
IES Andalán (Zaragoza)
IES Ángel Sanz Briz (Casetas-Zaragoza)
IES Bajo Cinca (Fraga-Huesca)
IES Baltasar Gracián (Graus-Huesca)
IES Benjamín Jarnés (Fuentes de Ebro-Zaragoza)
IES Cabañas (La Almunia-Zaragoza)
IES Castejón de Sos (Castejón de Sos-Huesca)
IES Domingo Miral (Jaca-Huesca)
IES El Portillo (Zaragoza)
IES Elaios (Zaragoza)
IES Francés Aranda (Teruel)
IES Gallicum (ahora Villanueva) (Villanueva de Gállego-Zaragoza)
IES José Manuel Blecua (Zaragoza)
IES Juan de Lanuza (Borja-Zaragoza)
IES La Llitera (Tamarite de La Litera-Huesca)
IES Martínez Vargas (Barbastro-Huesca)
IES Matarranya (Valderrobres-Teruel)
IES Medina Albaida (Zaragoza)
IES Monegros Gaspar-Lax (Sariñena-Huesca)
IES Pablo Gargallo (Zaragoza)
IES Pablo Serrano (Zaragoza)
IES Pedro Cerrada (Utebo-Zaragoza)
IES Pedro de Luna (Zaragoza)
IES Pirámide (Huesca)
IES Ramón J. Sender (Fraga-Huesca)
IES Ramón Pignatelli (Zaragoza)
IES Ramón y Cajal (Huesca)
IES Ramón y Cajal (Zaragoza)
IES Reyes Católicos (Ejea de los Caballeros-Zaragoza)
IES Rodanas (Épila-Zaragoza)
IES S. XXI (Pedrola-Zaragoza)
IES Salvador Victoria (Monreal Del Campo-Teruel)
IES Secc Bajo Cinca (ahora Joaquín Torres) (Mequinenza-Zaragoza)
IES Secc Pirámide (Almudévar-Huesca)
IES Sierra de Guara (Huesca)
IES Sierra de la Virgen (Illueca-Zaragoza
IES Valdespartera (Zaragoza)
IES Valle de Huecha (Mallén-Zaragoza)
IES Valle Del Jiloca (Calamocha-Teruel)
IES Virgen del Pilar (Zaragoza)
IES Zaurín (Ateca-Zaragoza)
More information in the pdf:
Información y recursos asociados