INTERREG EUROPE CECI Project
Dirección General de Cambio Climático y Educación Ambiental

Servicio de Planificación Ambiental

Economía circular

Medio ambiente
"Citizen involvement in circular economy implementation" (CECI) Project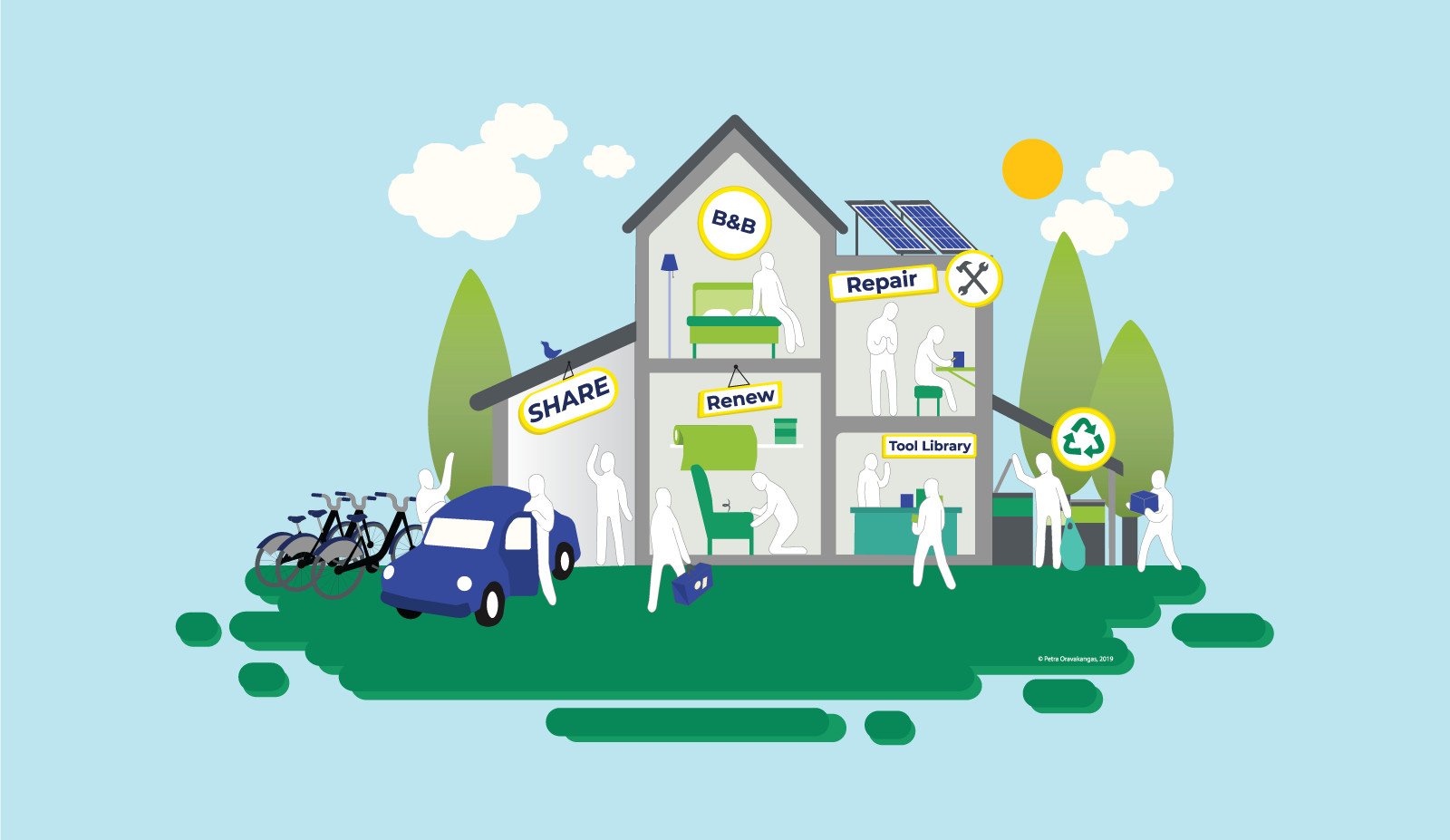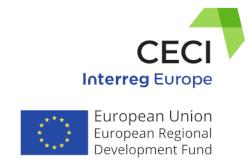 General information
The Directorate General for Climate Change and Environmental Education, of the Department of Agriculture, Livestock and Environment, participates as a partner of the international project CECI (Citizen involvement in circular economy implementation), framed within the fourth call of the Interreg Europe program.

The project that is funded through the European Regional Development Fund (ERDF) and has a total budget of 1.508.765 euros.
Objective
CECI aims to influence regional policies through the promotion of the circular economy by promoting citizen participation and raising awareness about sustainable consumption, all in accordance with the principle of waste hierarchy of the European Union (EU). This principle establishes an order of priority in the development of waste policies, in which the first option is waste prevention and reduction, in line with the objectives of the EU Circular Economy Package.

Additionally, CECI reinforces the measures that the General Directorate of Climate Change and Environmental Education of the Government of Aragon includes in its Integral Waste Management Plan, GIRA Plan 2018-2022.

Changes in citizenship consumption patterns will be essential to extend the life cycle of products, through reuse and restoration, sharing circular economy solutions such as digital platforms, repair services and new technologies and creating new opportunities for business based on the circular economy and green growth.
Partners
CECI is made up of a total of eight partners with a clear interest in the development of the Circular Economy and belonging to France, Czech Republic, Belgium, Bulgaria, Finland and Spain and being the Project Coordinator Lahti University "Applied Sciences "from Finland.
Project Phases
The CECI project has a first three-year implementation phase and a final one-year follow-up phase.

In the first phase (August 1, 2019 to July 31, 2022) and at the regional level, the main activities focus on identifying good practices in citizen participation and developing action plans to improve policy development instruments. The fruits of the process will be shared with other regions at interregional meetings. These meetings will also include training and workshops to increase knowledge about methodology to develop citizen participation.

In the second phase (August 1, 2022 to July 31, 2023), the associated regions will monitor the implementation of their action plans.
You can visit:
All involved parties and Partner´s Interregional meetings
Sharing interests and exchanging experiences on circular economy are key pieces in the development of CECI. CECI has two types of meeting: Aragon involved parties meetings and Interregional Partners meetings.
Aragon involved parties meetings
First Meeting: November 19, 2020
Second Meeting: September 10, 2020
Partner´s Interregional meetings
First Meeting in Lahti (Finland): 3-4 December 2019
Policy Learning Platform and Good Practices
The Interreg Europe Comunity, of which the Government of Aragon is a part, offers an important resource for the knowledge:
The PLP it's a continuous learning space where experiences and projects are shared by all community members. There is available information about entities, projects and people that could be interesting in your own initiatives, it improves networking and helps create synergies among its members.
We encourage all of you to join it and investigate the opportunities offered by the platform:
Webinar
Thematic workshops
Networking events
Knowledge Hug
Good Practices Database: more than 1.500 projects that have been evaluated by experts and that give visibility to the work done, serving as inspiration for the rest of the community
Aragón CECI Good Practices
Citizen involvement is essential to reduce the generation of waste, reorienting their habits of use and consumption, extending the life of products through repair and reuse, improving the organization of purchases, implementing shared uses of goods and services, using services offered by digital platforms, etc. These types of actions are considered "Good Practices" - GP.
Exchange of experiences is essential. Each partner identifies and publishes GP. These GP could serve as a reference to other members like circular economy actions. You can visit https://www.interregeurope.eu/policylearning/good-practices/
Aragon has proposed to CECI LP two GP, waiting to be checking by Interreg authority experts:
Newsletter and Dissemination Events
Newsletter
Dissemination events
These are dissemination actions aimed to people or entities which are not agents involved in the project. A dissemination action can be:
internal, if it is directed at personnel of Aragon Government, partner of the project
external, opened to the society
Interreg Europe CECI dissemination event:
Forum of Local Entities por a circular economy in Aragon (July 2, 2020)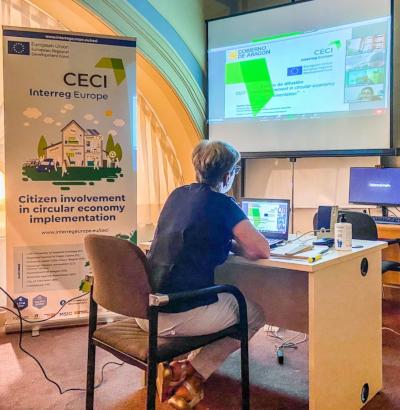 Contact:
General Directorate of "Cambio Climático y Educación Ambiental"
Government of Aragon
Información y recursos asociados
Enlaces relacionados con el proyecto: